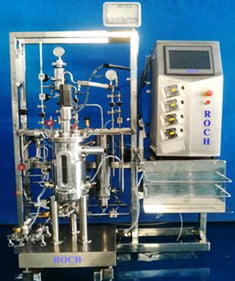 Insitu Lab Fermenters:
Roch Instiu lab Fermenters are a comprehensive solution to the cell cultivation fermenter which are designed to cater to rigorous working conditions with state of art SCADA PLC to camand Multi Bioreactor vessel wor working in tandem.
An all purpose bio process system designed to maximize yields in both cell harvesting for commercial or Research confirmations.
Large Touch screen LCD display with large Touch screen LCD display with colour graphic and in process flow charts depicting pH Temperature, DO etc are unique features.
Roch Insitu fermenter vessels are crafted out of thick stainless steel 316 grade sheet, with jacket, outer wall and wet parts machined to ISO, CE, ASME standards.
Roch Blends technology with users requirements to produce Bioreactors Fermentors which have produced many satisfied customers all around the world.
TECHNICAL MATRIX
Type                                         Autoclavable
As pact ratio                           1:25%
Design Guidance                   ASME SECTION VIII
Temperature                          PID/PLC/SCADA
AC drive                                  Electronic Frequency Controls
PH                                            Gel Filled
DO                                            Bimetallic
Anti Foam                               Automatic
Feed control                           Automatic & level sensor
Air                                            Rota meter
Gas                                          Rota meter / Thermal Mass Flow
Pressure                                 Piezoresistive    Diaphragm