Ultra Low Temperature Freezer, Ultra Low Deep Freezer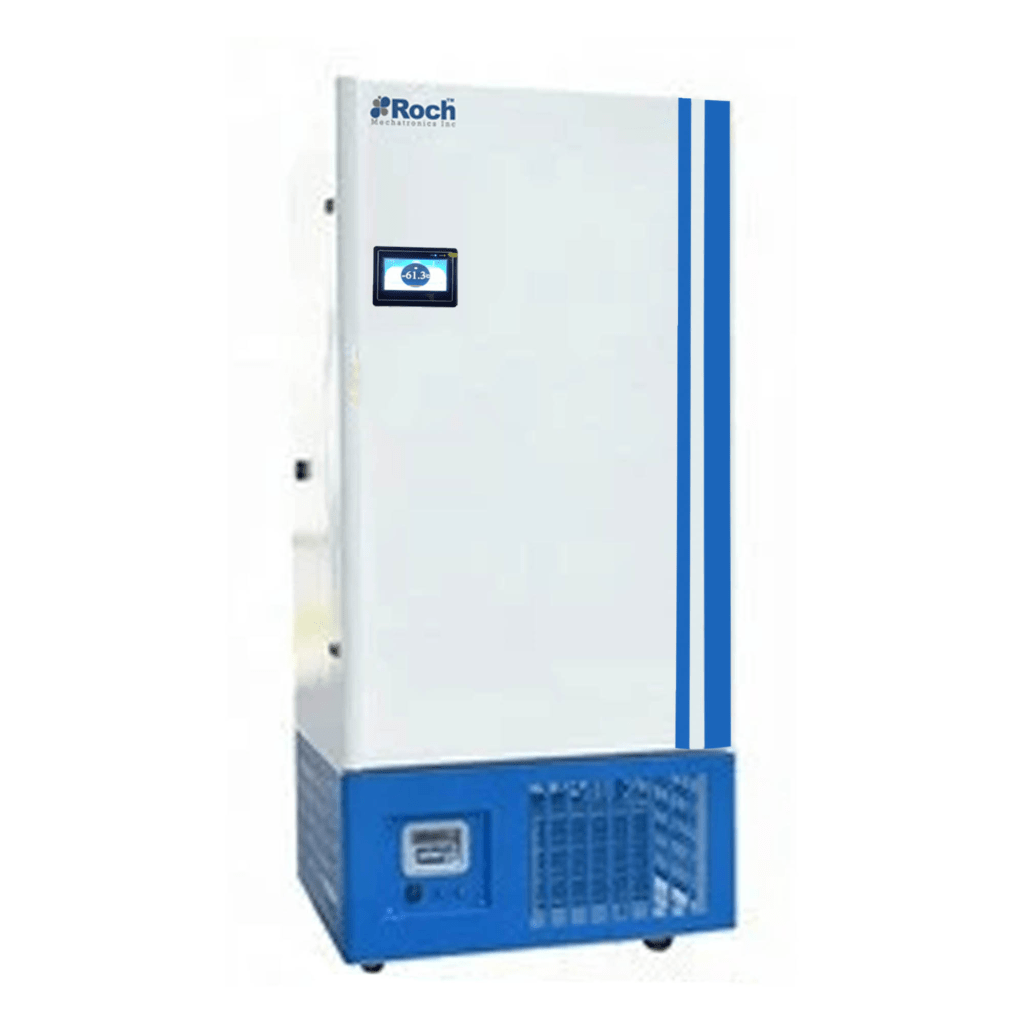 Ultra low deep and temperature freezer:
True  -86°C Ultra Low Deep Freezer itself, the samples stored in it are the most important issue for a customer. For this reason Roch only chooses the most reliable components available in the world. The reliable proven compressors are Used in a unique cascade system with very low pressures and a completely sealed cooling system.
The Roch Ultra Low Freezer is a very durable and reliable system with an extremely low noise level.
This low noise level is created by a very efficient and effective use of the cascade compressor system with non CFC refrigerants.Temperature controller, Lock and Alarms are built in features.
APPLICATION
Roch Ultra Low Deep Freezer is widely used in Universities, microbiology, genetic, biotech, Hospitals  Also used for preservation of red blood plasma, white blood cell, skin, bone, bacteria, semen, biomedical product in small medium and large blood centers.
Deep Freezer ideal laboratory freezer to provide a perfect freezing environment for the preservation of vaccines, blood plasma, test samples, specimens at desired temperature (Available in various Models i.e.,-70ºC,-80ºC,-86ºC.)
FEATURES of Roch Ultra Low Deep Freezer
Equipped with alarms for Low and High Temperature, Power Failure alarm, Low Battery Alarm and system failure alarm.
Highly efficient compression lock for leak free door closure assembly with double silicon gasket seal.
High density foamed-in-place polyurethane foam (PUF) insulation for minimal cooling losses.
Evenly spread evaporator accounts for higher temperature uniformities throughout the cooling chamber.
Specially designed Deep Freezer Upright Latches to keep the door tightly locked eliminating chances of any cooling loss
LCD display
Intelligent Controller helps maintain Deep freezer temperature in case of sensor failure
Auto tuning of controller
Self-Diagnosis for errors
Settable High / low alarm points
Availability of castor wheels for easy mobility.
Service valves provided to allow easy recovery of refrigerants and field servicing.
Front to back airflow with removable, cleanable air filter.
ECO FRIENDLY COMPRESSOR with CFC-FREE refrigerant.
Fitted with Microprocessor Based Digital Temperature Indicator cum-Controller.
CONTROL SYSTEM
Time delay for compressor switch on.
Overload cut of relay for compressor.
Digital Micro processor
Audio visual alarm at eye level.
Sensor failure alarm.
Alarm for high/low set parameters.
Electrical circuit breaker
Actual temperature LED display for better visibility.
Low Noise Level around 68dBA.
Multiple Dual Layered insulated
Audio visual alarm at eye level.
Sensor failure alarm.
Alarm for high/low set parameters.
Electrical circuit breaker.
CONSTRUCTION OF Ultra Low Deep Freezer
Inner Chamber of Ultra Low Deep Freezer made of Stainless Steel, 304 Grade, and duly Polished.
Outer made of CRCA Steel /mild steel cabinet, powder coated.
Double walled single main door with sub doors arrangements.
Compartments, for better sample protection through minimum sample warming.
Inner doors for easy accessibility to crucial samples.
Door outer one solid steel with keyed door lock handle
Outer front double walled door is insulated and is fitted with magnetic tape (rubber gasket) for air tight closing for no temperature loss, provided with handle, lock with key arrangement and Heavy duty hinges with toggle type.
Sub doors made of PP/stainless steel with special silicon Gasket system for leak proof (OPTIONAL)
Inner chamber has places to adjust the shelve at the desired height. Supplied with Stainless steel shelves.
High grade polyurethane foam (PUF-125mm) between outer and inner chamber including door for minimal thermal losses.
Polyurethane Foam Insulation (PUF).
Heavy Duty Castor wheels for easy movement.
Separate sample port for easy access through wall.
Coated with antimicrobial coating eliminates 99.9% surface bacteria within 24 hrs
Password Protection
Deep freezers have microprocessor controller for temperature and alarms with non-volatile memory.
Secure inner doors with reduced cold air loss and improved temperature recovery after door opening.
Shelves are made of stainless steel. Power Supply: Single phase. 220-240 Volts, Frequency 50 Hz.
Door outer one solid steel with keyed door lock handle.
REFRIGERATION SYSTEM
Hermetically sealed compressor with CFC free refrigerant.
Cooling coils is distributed all around the chamber and lies in the air circulation path.
Hermetically sealed make compressor.
CFC free refrigerant filled.
Fin and tube type air-cooled condenser.
100% HCFC/CFC free refrigerant.
Compressor 2 x 1 HP Cascade System
Direct cooling system for stable temperature control by ISI marked heavy duty hermetically sealed and CFC free refrigeration system. Charged with refrigerant to pull down the temperature up to-70°C/-80°C/-86°C.
OPTIONAL FEATURES OF Ultra Low Deep Freezer
4″ Inch attractive LCD display.
Battery backup in case of power failure for display, alarms & off-line data logging.
Histogram format of 24 hours temperature recording.
Settable High / low alarm points.
Memory for storage of up to 1000 records.
Centronic interface to record Temperature, Date, & Time by attaching Dot Matrix printer with adjustable print interval.
Alarm on equipment / output for remote alarm.
7 inch big color touch screen.(Optional)
PLC (Programmable logic controller).
Memory of 15,000 records.
Ethernet port.
Data logger for 8 Point temperature recording with sensor printer interface and software.
Software as per 21 CFR Part 11 requirements.
PLC Based Control System with HMI Touch Screen of Ultra Low Deep Freezer.
Biometrics Magnetic Door Access for Secured Door opening with software to maintain log.
Validation (mapping) consists of one cycle for the temperature at any one set point for 24 hours on empty and loaded conditions.
Standby Refrigeration System.
GSM alert through SIM card.
Multiple level alphanumerical password with password ageing.
Secured audit trail report.
Alarm report with mention of alarm condition.
Mean Kinetic Temperature able to be calculated for any days& alarm deviation report.
Reports in graphical and tabular form.
Data Stored in PC server with Lan connectivity and can be monitored on PC with password authentication.
Multi chamber data acquisition on single software.
Communication through RS 485 / TCP IP.
GSM Mobile Alert/mobile phone Numbers.
Power failure and resumption recorded with date and time.
| Make | ROCH                             Ultra Low Deep Freezer | . | . | . | . | . | . | . |
| --- | --- | --- | --- | --- | --- | --- | --- | --- |
| Model | ULDF-150/250 | ULDF-350 | ULDF-450 | ULDF-550 | ULDF-650 | ULDF-750 | ULDF-800 | ULDF-850 |
| Temperature range | -50°C to -86°C | . | . | . | . | . | . | . |
| Temperature control | Microprocessor based controller/ PLC Based Control System / HMI Touch Screen | . | . | . | . | . | . | . |
| Lock | Yes | . | . | . | . | . | . | . |
| Display | LED/LCD | . | . | . | . | . | . | . |
| Power Failure Alarm | Visual Alarm | . | . | . | . | . | . | . |
| Internal Body Material | Stainless Steel – 304 grade | . | . | . | . | . | . | . |
| External Body Material | CRCA Steel /mild steel cabinet, powder coated. | . | . | . | . | . | . | . |
| Noise Level | Less Than 65 db(A) | . | . | . | . | . | . | . |
| Power Supply | 220-240 volts, 50Hz, Single Phase | . | . | . | . | . | . | . |