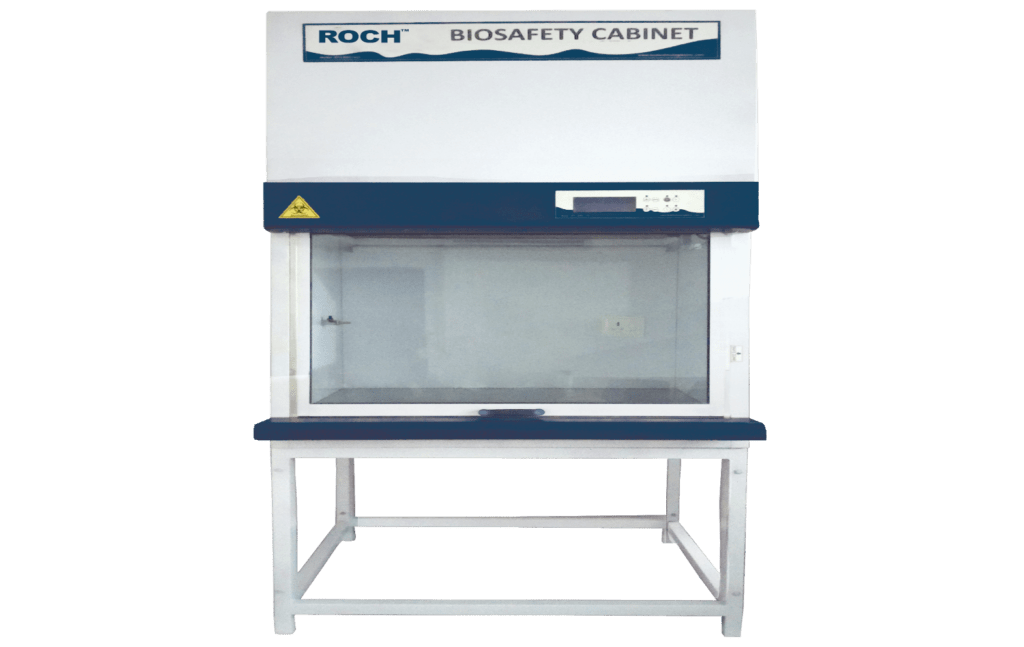 Features of Biosafety Cabinet:
Three protections: operator, sample and environment.
Airflow system: 0 % air recirculation, 100% air exhaust
B2 Bio Safety Cabinet has higher class of safety protection compared with type A2; it may be used for work with volatile toxic chemicals and radionuclides as required as adjuncts to micro Bio studies.
APPLICATION
Roch Bio Safety Cabinet is widely used in Research Centers, Major Universities, Pharmacy, Biotechnology, Medical research, Hospital, Diagnostics, Agriculture science, Pharmacology, Immunology, Genetics, Bioengineering Biotechnology, Microbiology, Botany, Zoology etc.
The Biosafety cabinet is a safety device that protects individuals, the environment, and products. During Operations, it helps avoid exposure to possible infectious aerosols and spills for the operation of experimental material of bio-hazardous, nature microbial strains or clinical diagnostic inspection samples.
This Biosafety cabinet is widely used in biological experiments; it is the most important barrier (Primary Barrier) and front-line defense for the safety of the operator.
CONTROL
16 x 2 LCD Alphanumeric display showing the controlling of the different parameters with soft touch keys to control the different parameters.
The Menu Driven system allows the user to set multiple parameters easily.
V light Age calculation.
Simple to use and operate keys for U.V light On/Off ,F.L Light On/Off, Blower on/Off ,Alarm key.
Timers for U.V light operation up to 99mins
Timer for Blower operation up to 99:99 hrs
Alarm indication on timer completion process.
Password protection
LED indication for all outputs.
V light and Blower Output will automatically get switched off after their respective set time is over.
FEATURES
A front access opening with carefully maintained inward airflow.
HEPA-filtered, vertical, unidirectional airflow within the work area.
HEPA-filtered exhaust air to the room or exhaust to a facility exhaust system.
Personnel — Air curtain and HEPA filters protect users from biohazardous aerosols generated inside the chamber.
Sample Protection — recirculating and unidirectional HEPA filtered air protect samples from contamination from unsterile lab air.
Confirms the Air cleanliness standard ISO 14644-5 (Class 100)
Free Blower ensures noiseless operation.
The Class II Type A2 biological safety cabinet is the most common Class II cabinet. It has a plenum from which 30% of air is exhausted, and 70% re-circulated to the work area as the down flow.
Sound level no more than 60 decibel ± 5%.
Microprocessor controlled, Class II Bio Safety Cabinet (Type A2)
All contaminated air paths remain under negative pressure.
Hermetically sealing around front window.
Reduces the air flow while front window closed to maintain safe premises for the equipment.
The exhaust plenum remains under negative pressure & hard ducted to the outside environment.
LCD Display
Large digital display is easy to monitor all the safety parameters at a glance and ergonomically sized control panel improves user interface.
Work Zone
Work zone, made of 304 stainless steel is surrounded by negative pressure.
UV lamp
Emission of 253.7 nanometers for most efficient decontamination.
Front Window
Two-layer laminated toughened glass>5mm, anti UV
Blower Assembly
Outer rotor type blower system which consist of dynamically& statically balanced  aluminum centrifugal impeller driven by an single phase 1330 RPM motor, enclosed in an PU coated GL casing suitable connected to the filter chamber through direct mounted type.
Exhaust Blower
Centrifugal fan, speed adjustable.
Air Circulation      
In order to minimize spread of airborne bacterial and viral organisms, the use of filter is crucial; therefore, we use 99.97% efficiency HEPA filters for particle size 0.3 microns in our biological class 2 type A2 safety cabinets. These air filters are of reputed brands in the market, economical in price and easy replaceable. ISO 5 / Class 100 quality, supply and exhaust through HEPA filters are done. Inflow velocity remains approx. 105 fpm (0.5 m/sec), while down flow velocity remains approx. 55 fpm (0.3 m/sec). 70 % air is re-circulated and 30% exhaust.
Construction
Inner chamber made of stainless steel with rounded angles for easy cleaning and user safety from any physical cuts.
The working chamber is made of stainless steel 304 grade with round corners for easy cleaning.
Smooth finish interior and exterior ensures no risk of cuts to the user or maintenance personnel.
Robust construction outer body made of Electro-galvanized steel duly powder coated.
Front 10° slanted to offer operator comfort while working for long time.
Motorized Front Window.
Time Reserve Function.
HEPA Filter life and UV Life indicator.
Automatic air speed adjustable with filter block.
Work area surrounded by negative pressure, it can ensure maximum safety in work area.
Audio and visual alarm (Filter replacement, Window over height, abnormal Air flow velocity etc).
Manual sliding window with external pneumatic piston to facilitate maintenance and internal cleaning of the cabinet.
Single piece removable stainless steel 304 perforated working surfaces.
Stand with a lockable castor wheel for easy movement.
Hardness security glass at the front.
| | | | | | |
| --- | --- | --- | --- | --- | --- |
| MAKE | ROCHMECHATRONICS INC | . | . | . | . |
| MODEL NO | BSC-222 | BSC-322 | BSC-422 | BSC-522 | BSC-622 |
| Sizes Available | 2ft, 3ft, 4ft, 5ft and 6 ft | . | . | . | . |
| Construction | SS 304 /316 / Powder coated MS or GI sheet | . | . | . | . |
| Work top | SS 304 /316 | . | . | . | . |
| Controller | ON/Off switches for Cabinet, Light & Blower | . | . | . | . |
| Air filtration | HEPA filter 99.99% efficiency | . | . | . | . |
| Air recirculation | 70% recirculation and 30% exhaust | . | . | . | . |
| Average Airflow Velocity | Inflow: Minimum 0.45 m/s ( 90 FPM) at 8" front opening Down flow: 0.30 m/s ( 65 FPM) | . | . | . | . |
| Fumigation | In-built fumigation port | . | . | . | . |
| Noise level | Less than 60 decibel | . | . | . | . |
| Standard Fittings | Magnehelic pressure gauge Fluorescent lamp | . | . | . | . |
| . | UV light | . | . | . | . |
| Optional | Microprocessor based controller system | . | . | . | . |
| . | Digital display of real time inflow / down flow air velocities Alarm for variation in air flow and blocked blower | . | . | . | . |
| . | Sash height alarm UV hour meter Virus burnout | . | . | . | . |
| . | Service valves (gas, vacuum, air & water) Electrical sockets | . | . | . | . |
| . | Differential pressure sensor Arm / elbow rest | . | . | . | . |
| . | Drain pan on work bench Movable stand (wheels) Foot rest | . | . | . | . |
| . | Calibration certificates HMI Controller | . | . | . | . |