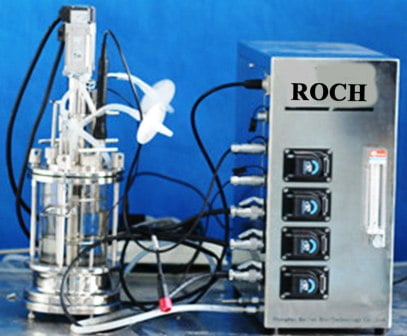 Roch produces the world's best MINI BIOREACTOR FERMENTER   with magnetic Drive as well. Fermenters are various types of Bioreactor fermenters There are different Mini fermenters available from 0. 2 L to 1.0 L and can work in tandem as well with a single controller. Mini Bioreactor Fermenter is an ideal device for innovative parallel process development for Medical Labs and also in R&D Labs. The Process Control System can manage up to 24 units with parallel control. Most all Fermenters are Computer controlled by multiple fermenters and mini bio-reactor systems for high throughput screening and parallel optimization.
The Mini Bioreactor Fermenters are topless rotation controls from 50 to 1200 rpm, temperature through steam generation Air sparger cold water circulation, PH detection, and controls from two. Zero– 12 BH, dissolved oxygen, gas, and feet controls are available.
Roch Mechatronics understands the importance of having a Mini Bioreactor Fermenter. A true handy Fermenter with PID controls or PLC controls. Glass vessel autoclavable is available on demand.
Scientists desiring to harvest the cells by enhancing the metabolic process when targeting commercially produced enzymes like lipase, Invert is ferAdi fingerprint through GM microbes. Roch mini fermenters are the solution.
Large LCD touchscreen controls with graphics in the process flow chart are the added advantages top plate of the glass is made of 304/ 316-grade steel with multi ports enabling Swift and a smooth operation.
Mini Bioreactors enhanced with modern chemometrics tools enable fast and reliable development and optimization of your process. Seamless transfer to our pilot and production scale single-use bioreactor.
Computer-controlled multiple fermenters and bio-reactor systems for high throughput screening and parallel optimization.
Roch Mechatronics offers a real alternative to our competitors with a truly modular system capable of each module being totally independent. Using its own power supply PLC microprocessor large TFT display colour graphics are some additional features of Roch Mechatronics mini Fermentor.