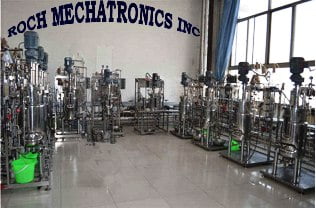 Seed Fermenters:
Roch Introduces Sterilization in place seed Fermenters which are CGMD compliant, multifunctional programmable Bioreactor for multipurpose seed fermentation.
 Touch and Glow large 5.7 /7.0" color screen interface built within the control station allows users to allows to view each parameter with in a conspicuous easy to read pictorial display.
 Roch Seed Fermenters are built for rigrous application with a capability to harvest anaerobic and aerobic cells.
Study construction from stainless steel 316L and 304 grade ss machined and fabricated with jacket to produce optimal usage.
 The automatic agitation drive the turbine impeller which are designed as per the cell wall forced.
 Sterilization PLC and can be controlled on screen, repaid chilling air sparging through the auto cycles are standard feature of Roch seed Fermenter. Password protection, reput manager daily & batch wise on hourly execution is stored. Roch Fermenter controls is capable to plot and graph display for 10 process variables Automatic temperature controls through the heat exchanger with primary & secondary Loop temperature control system is an advantage.
TECHNICAL MATRIX
Type                                           Autoclavable
As pact ratio                             1:25%
Design Guidance                    ASME SECTION VIII
Temperature                           PID/PLC/SCADA
AC drive                                  Electronic Frequency Controls
PH                                            Gel Filled
DO                                            Bimetallic
Anti Foam                               Automatic
Feed control                           Automatic & level sensor
Air                                            Rota meter
Gas                                           Rota meter / Thermal Mass Flow
Pressure                                  Piezoresistive    Diaphragm