Multi Vessel Glass Fermenter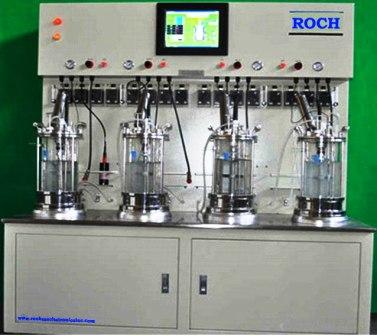 Multi Vessel Glass Fermenter:
Roch offers multi vessel glass fermenter with choice to have autoclavable or In situ sterilization Top Mechanical agitation or bottom magnetic driven from capacities of 3.0 Ltrs to 10.0 Ltrs.
These multi vessel fermenter can work in Tandem or coupled to suit process demands as well. Top Plate Machine from 316 L grade steel with multi ports to facilitate harvesting of cells coupled to PLC with Touch screen LCD display, remote control online and off line programmable facility.
Agitation  control through PLC with stepless speed and height adjustment stirring  adds to much desired Bio process engineering. Which makes te Roch Fermenter an all purpose machine Roch pre programmed operating cycles allows each reactor vessel to adopt production cycles as per the desired application in demand. Temperature pH, Do2, Feed control and desired gases apart from the antifoam, Commands are easily maneuverable through the controller.
TECHNICAL MATRIX
Type                                       Autoclavable
As pact ratio                         1:25%
Design Guidance                 ASME SECTION VIII
Temperature                       PID/PLC/SCADA
AC drive                                Electronic Frequency Controls
PH                                          Gel Filled
DO                                          Bimetallic
Anti Foam                             Automatic
Feed control                         Automatic & level sensor
Air                                          Rota meter
Gas                                        Rota meter / Thermal Mass Flow
Pressure                               Piezoresistive    Diaphragm