Insitu Fermenter in Tandem Multi Vessel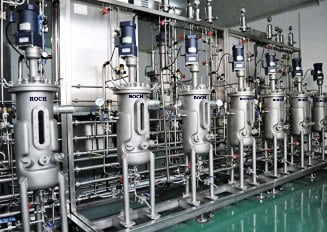 Insitu Fermenter in Tandem Multi Vessel:
Roch Mechatronics multi vessel working in tandem bioreactors fermenters with state of art controller capable to command multi union fermenter reaction with individual reaction to grow almost any cell type. Roch customizes options for anaerobic or aerobic fermentation. Weather the desired cells have sturdy cell walls or fragile and sensitive cell walls as in the case of mammalian cells.
Applications of Roch fermenters working in tandem have a wide acceptability weather project research or pharma reconfirmation as the Roch fermenter comes with pre programmed. Operating modes allowing each reactor to adapt production cycle as per the users need or change in operation cycles are demanded.
Roch fermenter Vessel are jacketed with well designed heat exchange area automated with temperature control system.
Automatic sterilization control through programmable pneumatic valves Purger accderated injection, chiller water circulation, agitation and exhaust system in accordance to ASME codes Automatic pH, DO, Aeration gas inlet redox controls through state of art SCADA.
TECHNICAL MATRIX
Type                                           Autoclavable
As pact ratio                            1:25%
Design Guidance                      ASME SECTION VIII
Temperature                            PID/PLC/SCADA
AC drive                                    Electronic Frequency Controls
PH                                              Gel Filled
DO                                             Bimetallic
Anti Foam                               Automatic
Feed control                           Automatic & level sensor
Air                                            Rota meter
Gas                                           Rota meter / Thermal Mass Flow
Pressure                                Piezoresistive    Diaphragm