REFRIGERATED MICRO CENTRIFUGE 13000 RPM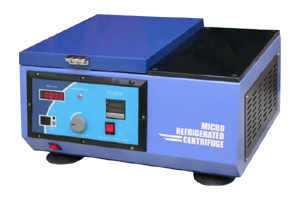 REFRIGERATED MICRO CENTRIFUGE 13000 RPM:
Roch Table top Refrigerated Micro Centrifuge machine. The temp. from room temp. upto minus 8°C is controlled by PID Electronic Digital Temp. Controller cum indicator. With variables speed controller, digital speed indicator, digital timer 0-15 minutes. Maximum r.p.m. 13000.
Supply complete with following angle rotor heads to accommodate polypropylene micro centrifuge tubes (Ependroff Tubes as well)
Angle Rotor Head, Cap. 12 x 0.5/1ml.
Angle Rotor Head Cap. 12.X 1.5/2ml
Special Features : 
1. Table Top centrifuge compact and elegant design.
2. Fitted with vacuum feet.
3.CFC free refrigent.
4. Centrifuge bowl made of stainless steel.