Ultra Refrigerated Centrifuge 30000RPM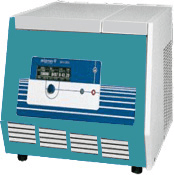 Ultra Refrigerated Centrifuge 30000RPM:
Roch's High speed refrigerated table top centrifuge for centrifugal forces of up to and more than 60 000 x g.
Single-knob control with LCD-display.
Efficient cooling system, pre-selection from -20°C to +40°C.
Maintenance-free brushless drive motor, controlled by a microcontroller. No changing of motorbrushes, no carbon dust, unusually quiet operation.
20 curves for acceleration and deceleration (10 quadratic; 10 linear), altogether 50 programs can be stored. With free programming of all centrifugation parameters including possibility of pre-cooling the rotor during standstill.