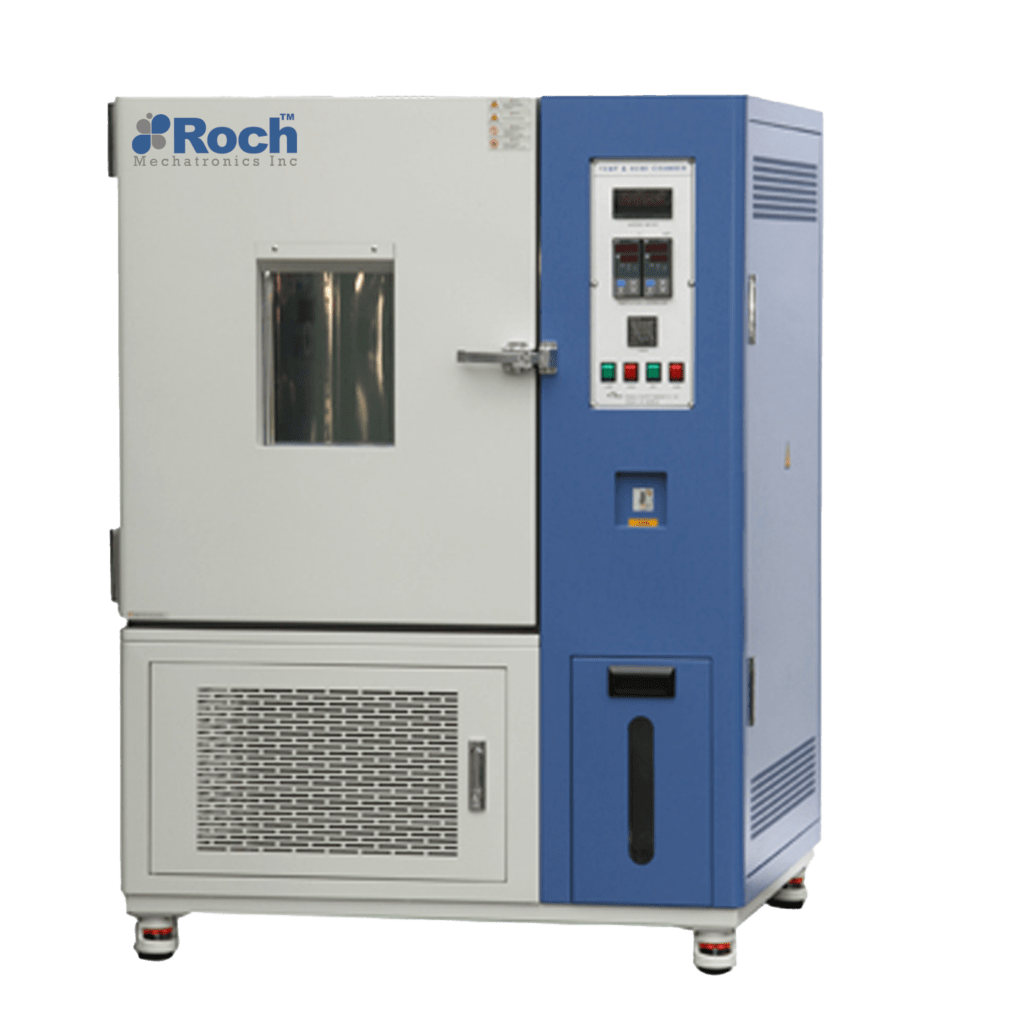 A humidity test chamber is a laboratory instrument used to simulate and control the humidity levels in a controlled environment for testing the performance and reliability of various materials and products. It is designed to perform controlled humidity testing for various industries, including electronics, textiles, pharmaceuticals, and others. The chamber can be programmed to simulate specific humidity levels, temperature cycles, and other environmental conditions to determine the effects on a product.
A humidity temperature test chamber is a piece of equipment used to simulate and control environmental conditions such as temperature and humidity for testing purposes. These chambers are commonly used in industries such as electronics, automotive, and aerospace, where products and materials need to be tested under specific environmental conditions to ensure their quality and reliability.
The chamber typically consists of an insulated enclosure that can maintain a controlled temperature and humidity level. The temperature and humidity levels can be adjusted and monitored using a control system that includes sensors and a computerized controller. Some humidity temperature test chambers also have additional features, such as the ability to vary air flow or pressure, or to simulate other environmental chambers. The tests that can be conducted in a humidity temperature test chamber vary depending on the specific requirements of the industry or application. For example, electronics manufacturers might use a humidity temperature test chamber to evaluate the performance and durability of their products under conditions of high humidity temperature.
Double walled modular structure with 3/4/5" thick PUF insulation
Inside Stainless Steel and Outside Mild Steel Powder Coated OR Stainless Steel
Interior illumination
Inside full length observation glass door with secure gasket
Handle and hinges for positive sealing with lock and key arrangement
Heavy-duty door hinges and latches to maintain a secure and uniform seal
65 mm Port Hole with rubber seal to insert sensors for validation purpose
Interior illumination for working area
U shaped S.S. Nichrome wire air heaters
Humidity system with evaporation tray and reservoir tank with water level arrangement
Compressor with CFC Free R 134 A / R 404 (Eco Friendly) refrigerant having state of art by-pass system for continuous run of compressor
PLC based control system with 4.3/5/7" colour touchscreen HMI.
Safety controller sensor to cut off the supply in case of overshoot and undershoot of Temperature giving audio visual alarm
Complete safety and alarm system
DESCRIPTION
HC-171
HC-280
HC-420
HC-560
HC-840
Controller
PLC based control system with 7" colour touchscreen HMI.
Standard Model(S)
Inside S.S. 304 & outside mild steel powder coated
GMP Model(G)
Inside S.S. 304 & outside S.S. 304
Temperature Range
5°C to 60°C
Temperature Accuracy
± 0.2°C
Temp Uniformity
± 2°C
Humidity Range
40% to 95% RH
Humidity Accuracy
± 2% RH
Door
Heavy-duty door hinges and latches to maintain a secure and uniform seal
Port
65 mm Port Hole with rubber seal to insert sensors for validation purpose
Heater
U shaped S.S. Nichrome wire air heaters
Refrigerants
Compressor with CFC Free R 134 A / R 404 (Eco Friendly) refrigerant having state of art by-pass system for continuous run of compressor
Racks & trays
Stainless steel with adjustable height
Humidity System
Humidity system with evaporation tray and reservoir tank with water level arrangement
Safety Controller
Safety controller sensor to cut off the supply in case of overshoot and undershoot of Temperature giving audio visual alarm
Power
230V AC single phase 50Hz
Dimensions
505 x 415 x 830
570 x 550 x 875
700 x 640 x 900
700 x 700 x 1100
Capacity
171 ltrs
280 ltrs
420 ltrs
560 ltrs
Frequently Asked Questions by Customers