Humidity Test Chamber Manufacturer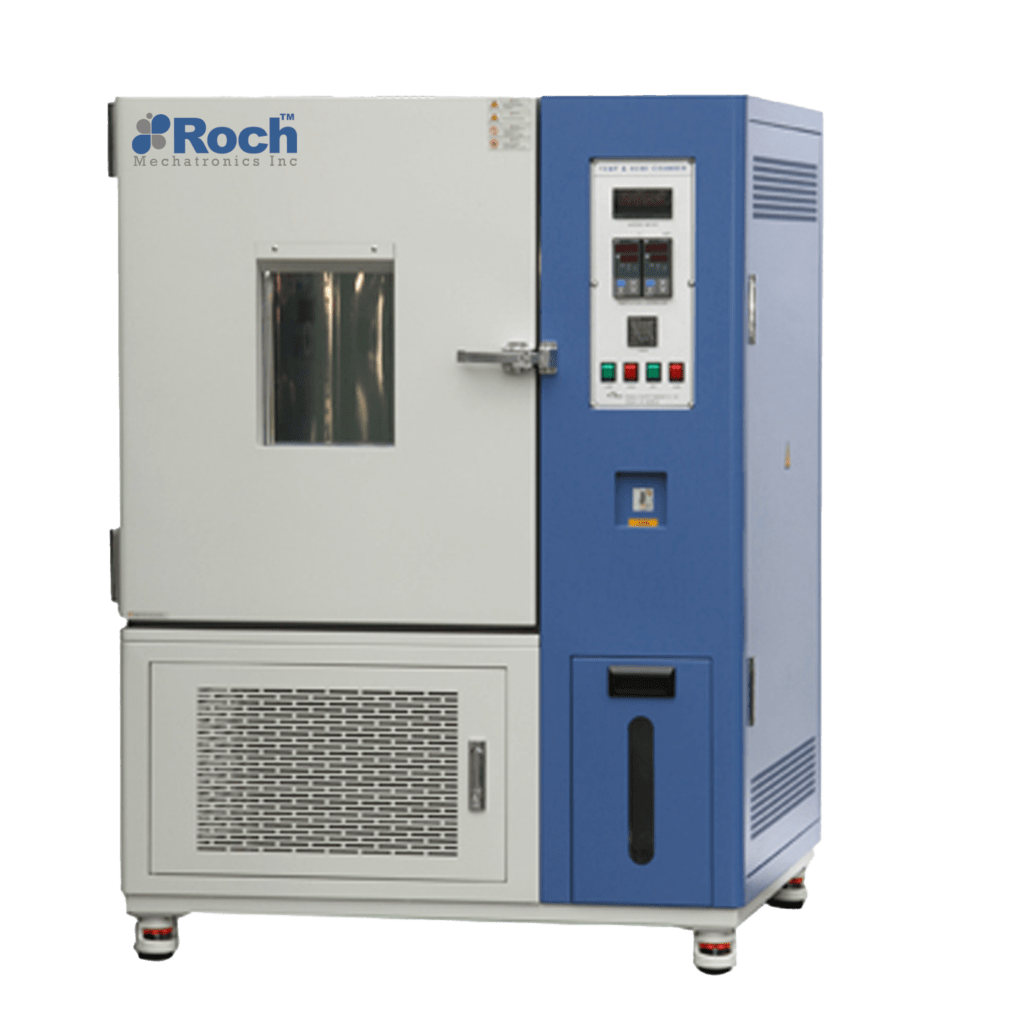 Humidity Test Chamber Application
Humidity Test Chamber use in Pharma, Plastics, composites, Adhesives, Textiles. Cosmetic, Food & Beverages, Personal care Biomedical storage, life science, Electronics etc in compliance with ICH guideline Q1A along with state of art 21 CFR Part 11 software.
Double walled modular structure with 3/4/5" thick PUF insulation
Inside Stainless Steel and Outside Mild Steel Powder Coated OR Stainless Steel
Interior illumination
Inside full length observation glass door with secure gasket
Handle and hinges for positive sealing with lock and key arrangement
Heavy-duty door hinges and latches to maintain a secure and uniform seal
65 mm Port Hole with rubber seal to insert sensors for validation purpose
Interior illumination for working area
U shaped S.S. Nichrome wire air heaters
Humidity system with evaporation tray and reservoir tank with water level arrangement
Compressor with CFC Free R 134 A / R 404 (Eco Friendly) refrigerant having state of art by-pass system for continuous run of compressor
PLC based control system with 4.3/5/7" colour touchscreen HMI.
Safety controller sensor to cut off the supply in case of overshoot and undershoot of Temperature giving audio visual alarm
Complete safety and alarm system
Humidity Test Chamber Specifications
Construction
Double walled construction with backside triple walled 3" thick PUF insulation ensures stable temperature with humidity & reduced energy consumption. Motorized Blower is fitted at the backside of the chamber.
The unit is provided with an adjustable stainless steel rod mesh tray. The equipment is mounted on caster wheels for easy movement.
Humidity Test Chamber Technical Specification
1. Controlling System
Microprocessors based PID controller with CE mark & dual display of set value & process value for temperature & humidity with direct %RH and auto tune function.
2. Air Circulation
The motorized blower at the backside of the chamber develops a unique air flow system which ensures max. uniform temperature & humidity condition inside the chamber.
3. Heating System
High-quality U shape S.S. tubular heater is used for better heating.
4. Humidity Test Chamber System
Steam injection system (Non-condensing type) & reservoir tank with water level arrangement with indicator/Ultra Sonic Humidification
Refrigeration System
CFC Free hermetically sealed Emerson Copeland make compressor for better cooling with R134 A (Eco Friendly) refrigerant with a time delay to safeguard compressor system.
Validation Port (Optional)
50 mm validation porthole with silicone rubber seal to insert sensors for validation.
FeaturesFull view observation Acrylic door with a gasket to observe the sample inside the chamber. Interior illumination for working area.
Specially designed stainless steel rod trays ensure uniform temperature distribution.
Safety Features
Additional safety thermostat to cut of dry heater supply in case temperature of overshoot. Float switch to cut off the wet heater supply in case of low water level. Audio & visual alarm. Compressor ON delay timer (2 min.) to safeguard the compressor.  Inbuilt overload protector provided for a hermetically sealed compressor.
DESCRIPTION
HC-171
HC-280
HC-420
HC-560
HC-840
Controller
PLC based control system with 7" colour touchscreen HMI.
Standard Model(S)
Inside S.S. 304 & outside mild steel powder coated
GMP Model(G)
Inside S.S. 304 & outside S.S. 304
Temperature Range
5°C to 60°C
Temperature Accuracy
± 0.2°C
Temp Uniformity
± 2°C
Humidity Range
40% to 95% RH
Humidity Accuracy
± 2% RH
Door
Heavy-duty door hinges and latches to maintain a secure and uniform seal
Port
65 mm Port Hole with rubber seal to insert sensors for validation purpose
Heater
U shaped S.S. Nichrome wire air heaters
Refrigerants
Compressor with CFC Free R 134 A / R 404 (Eco Friendly) refrigerant having state of art by-pass system for continuous run of compressor
Racks & trays
Stainless steel with adjustable height
Humidity System
Humidity system with evaporation tray and reservoir tank with water level arrangement
Safety Controller
Safety controller sensor to cut off the supply in case of overshoot and undershoot of Temperature giving audio visual alarm
Power
230V AC single phase 50Hz
Dimensions
505 x 415 x 830
570 x 550 x 875
700 x 640 x 900
700 x 700 x 1100
Capacity
171 ltrs
280 ltrs
420 ltrs
560 ltrs