Introducing our top-of-the-line bench-top centrifuge – the ultimate laboratory tool for efficient and precise separation of biological samples. With its sleek design and powerful performance, this centrifuge is perfect for a wide range of applications, from separating blood components to purifying proteins.
Equipped with a high-speed motor and a variety of rotors, this centrifuge can handle even the most challenging samples with ease. Its intuitive control panel allows for simple programming of spin times, speeds, and accelerations, and the clear digital display makes it easy to monitor the progress of your samples.
Not only is this centrifuge fast and efficient, but it is also incredibly safe to use. Its durable construction and advanced safety features, such as automatic rotor recognition and imbalance detection, ensure that your samples are always secure and protected during operation.
Whether you are a researcher, clinician, or industrial professional, our bench-top centrifuge is the perfect addition to your laboratory. With its superior performance, ease of use, and advanced safety features, it is sure to deliver reliable and accurate results every time. Don't wait any longer to upgrade your laboratory – invest in our bench-top centrifuge today and experience the difference in your work.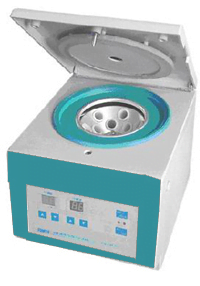 Features of Bench Top Centrifuge:
Low noise, minimal vibration
Dust pollution- and maintenance-free
Microprocessor control system and touch keypad for easy setup and use
LED speed and time displays
Gentle start-up and braking
Interlocking safety door
Brushless drive motor
APPLICATION
The 1-4A bench top low
speed centrifuge
is specially designed for sample precipitation and separation in daily research work. It is suitable for use in many medical centers,
biological laboratories
and factories.