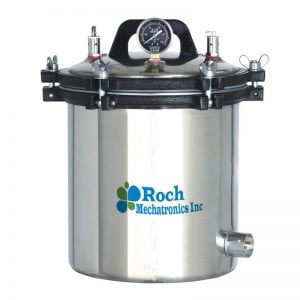 Portable Autoclaves:
Roch Mechatronics Portable Autoclave Six Wing Nut Aluminium Material-Aluminium with different Capacity  by Roch. Each unit constructed with heavy gauge stainless steel material . The chamber generates steam pressure 15 psi to 18psi under working. Each system is tested on certain parameters of successful sterilization ensuring safe operation always.
Portable Autoclaves Stainless Steel
Specifications:
Roch Mechatronics provides Portable Aluminum/S Steel Sterilizer Vertical Wing Nut Type Seamless.
Sterilizing Temp.: 120° C-131° C
Sterilizing Time: 25-30 Minutes
Heating Element: 2000 Watts, 220/240 Volts A/C.
Available in following sizes:
Capacity: 20 Ltrs. 12"X 12"
Capacity: 25 Ltrs. 12"X15"
Capacity: 39 Ltrs. 14"X15"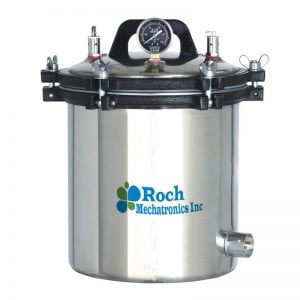 Roch Mechatronics stainless steel portable autoclave assures complete sterility by the process of using Damp heat steam penetrating evenly. Thus all Fungi, Spores, Bacteria Viruses gets inactivated dental surgical application confirm of surgical safety standard.
Roch Mechatronics provides stainless steel portable autoclave enhance the usage of same instruments due to its fine controlled programmable microprocessor which uses dedicated Software specially designed to carry out surgical Autoclaving.