Altitude Test Chamber Manufacturer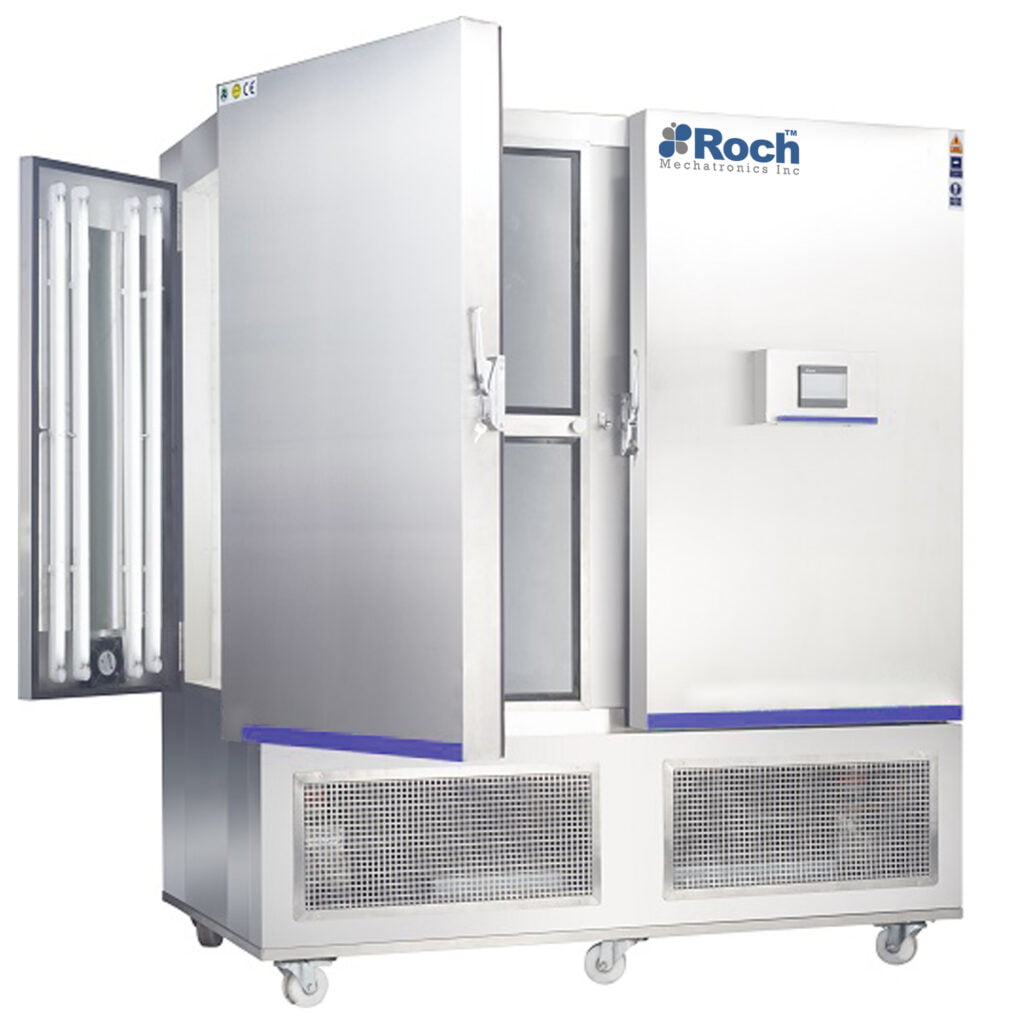 Roch Mechatronics Inc. is a leading manufacturer and supplier of altitude test chamber with a difference, a flexibility to have different colored lights ,built in Shaker, choice of variable LUX intensity, with latest Human Machine interface, True Color Display with graphics and Microprocessor based Programmable Controls. Roch's Plant Growth Chamber helps demystify challenges by modulating the growth factors conducive to implant Foreign Gene, Plants Transposable Genetic elements which affect Temperature Humidity and Light Spectrum to activate the GAP detection signals.
Altitude chamber testing is important for manufacturers of products that might be shipped via air. It is especially important for defense and aerospace applications where pressure and vacuum conditions are even more intense.  Altitude/temperature and altitude/temperature/humidity chambers offer performance flexibility and reliability for today's mixed-environment testing requirement. A Russell's application engineer can assist you in selecting the configuration, size, and elevation chamber options that best suit your needs.
Altitude Test Chamber Features
Brushed 304 series stainless steel liner, heliarc welded and dye checked
Welded external or internal pressure member construction
Fiberglass insulation, 0.25k factor
Welded steel frame with removable access panels to service components
Full opening chamber door with heavy duty wheel latch
Heavy duty horizontal glide door hinges
Durable blue enamel finishes (custom colors available)
Heavy duty vacuum pump with gas ballast
Oil mist eliminator
Temperature ranges:
-100°F/-73°C to 356°F/180°C
Altitude Chamber range:
Site level to 100,000 ft (30,500 m). Extended ranges available
Humidity range:
10% to 95% RH within the bounds of a +185°F/85°C maximum dry bulb and a 40°F/4°C min. dewpoint
Can be equipped with battery testing safety features according to EUCAR hazard safety level
Controlled Testing Environment Capabilities
Altitude
Temperature
Temperature and altitude (temperature controllable to 65,000 ft./20,000m)
Temperature and humidity at site level
Temperature, altitude, and vibration
Rapid Decompression
Model
RIC-18
RIC-37
RIC-55
Test Space Volume
18/510
37/1048
55/1557
(Cu. Ft./Liters)
Temperature Range
+180°C to -70°C (+356°F to -94°F)
Pressure Recovery Time
Less than 30 min
Pressure Maintenance
?10 hours
High Tension Terminal
4 pieces, Max. DC 500A,1000V
Low Tension Terminal
4 pieces, Max. DC 500A,1000V
Data Cable Interface
2 groups, DB9 line
Observe Window
YES
Auto Door
Adopt hydraulic automatic open design
Inner Material
SS304
External Material
SS304
Altitude Range
Up to 100,000 ft (30.48 km)
Up to 100,000 ft (30.48 km)
Up to 100,000 ft (30.48 km)
Humidity Range
10% to 98%