Altitude Test Chamber Manufacturer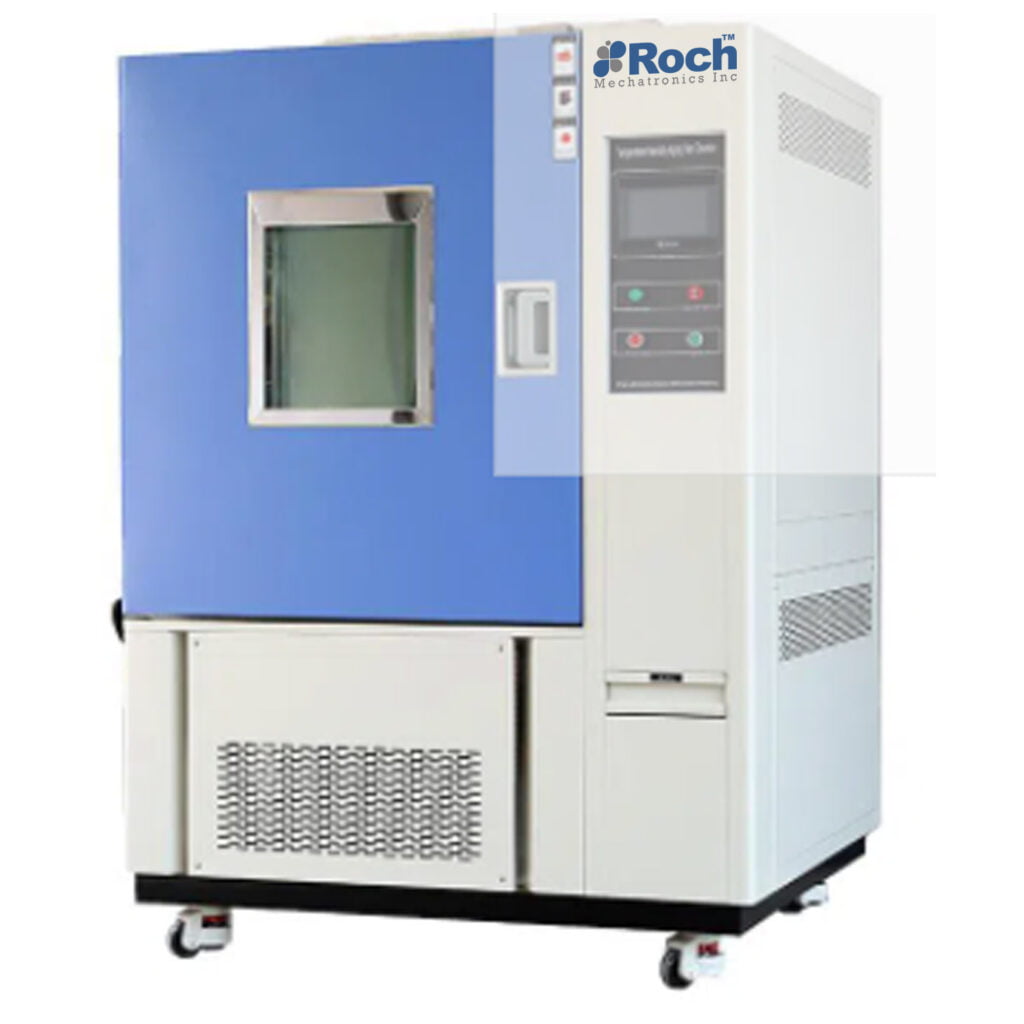 At Roch Mechatronics Inc., we're proud to offer the highest quality Altitude Test Chamber on the market
With our altitude test chambers, you can replicate high-altitude conditions in a controlled environment which can be used for altitude testing i.e. testing the performance of various products or systems under such conditions.
How Our Altitude Test Chambers Work
The chamber works by creating a low-pressure environment that is similar to the atmosphere at high altitudes, typically above 10,000 feet (3,048 meters). This reduced atmospheric pressure affects the behavior of various materials and systems, such as engines, avionics, and life support systems, among others.
Industries That Benefit from Our Altitude Test Chambers
Altitude test chambers are primarily used in industries such as aerospace, defense, and automotive to test and validate the performance of products under high altitude conditions. For example, aircraft engines, avionics systems, and life support equipment for pilots must function properly at high altitudes to ensure the safety and effectiveness of air travel. Similarly, automotive engines, fuel systems, and tires must be tested at high altitude to ensure reliable performance in mountainous regions.
Achieve Aerospace Component Reliability with Roch Mechatronics' Altitude Test Chamber
When an aircraft is in flight, it and its various components are exposed to extreme climatic conditions and pressure. These parameters play a crucial role in the functioning of individual components and must be closely monitored and measured to ensure safety. To address this, Roch Mechatronics Altitude chamber has been developed that allow for the testing of aerospace components in a controlled environment with parameters such as pressure, temperature, and humidity carefully regulated. With the ability to simulate altitudes of up to 100,000 feet (10 mbar), these chambers are crucial in ensuring the safety and reliability of aerospace components.
Design of Our Altitude Test Chambers
To ensure reliable and safe aerospace components, attention to detail has gone into the design. From the refrigeration system to the semi-hermetically sealed reciprocating compressor, high efficiency evaporator unit, in-built water-cooled condenser, and on-demand cooling, every component has been carefully selected to ensure optimal reliability. Additionally, the chamber can also be customized to meet specific testing requirements, with altitude ranges of up to 150,000 feet (1 mbar) available as an optional feature. Investing in our Altitude chamber can help safeguard human lives and improve the reliability of your aerospace components.
Features
Brushed 304 series stainless steel liner, heliarc welded and dye checked
Welded external or internal pressure member construction
Fiberglass insulation, 0.25k factor
Welded steel frame with removable access panels to service components
Full opening chamber door with heavy duty wheel latch
Heavy duty horizontal glide door hinges
Durable blue enamel finishes (custom colors available)
Heavy duty vacuum pump with gas ballast
Oil mist eliminator
Temperature ranges:
-100°F/-73°C to 356°F/180°C
Altitude Chamber range:
Site level to 100,000 ft (30,500 m). Extended ranges available
Humidity range:
10% to 95% RH within the bounds of a +185°F/85°C maximum dry bulb and a 40°F/4°C min. dewpoint
Automation: Human machine interface (HMI), touch screen, PLC, Microprocessor based controlling.
Customizable according to customer's need
Controlled Testing Environment Capabilities
Altitude
Temperature
Temperature and altitude (temperature controllable to 65,000 ft./20,000m)
Temperature and humidity at site level
Temperature, altitude, and vibration
Rapid Decompression
Model
RIC-18
RIC-37
RIC-55
Test Space Volume
18/510
37/1048
55/1557
(Cu. Ft./Liters)
Temperature Range
+180°C to -70°C (+356°F to -94°F)
Pressure Recovery Time
Less than 30 min
Pressure Maintenance
?10 hours
High Tension Terminal
4 pieces, Max. DC 500A,1000V
Low Tension Terminal
4 pieces, Max. DC 500A,1000V
Data Cable Interface
2 groups, DB9 line
Observe Window
YES
Auto Door
Adopt hydraulic automatic open design
Inner Material
SS304
External Material
SS304
Altitude Range
Up to 100,000 ft (30.48 km)
Up to 100,000 ft (30.48 km)
Up to 100,000 ft (30.48 km)
Humidity Range
10% to 98%