Bio Fertilizer Reactor Manufacturer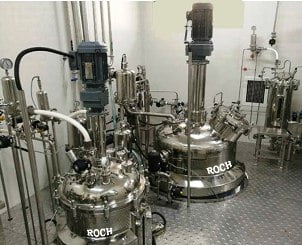 Roch, bio fertilizer reactor find place in the industries, research centers where where in Bio fertilizer is desired result.
 Roch Bio Reactor fermenters are designed and manufactured to simplify the man and machine integration by powerful PlC dedicated bioprocess engineering software enabled system to produce by fertilizers.
 Roch Bio Fertilizer Fermenter reactors are built for rigorous application with a capability to harvest anaerobic and aerobic cells.
 Study construction from stainless steel 316L and 304 grade SS machined and fabricated with jacket to produce optimal usage.
TECHNICAL MATRIX
Type                     
Autoclavable
As pact ratio            
1:25%
Design Guidance          
ASME SECTION VIII
Temperature              
PID/PLC/SCADA
AC drive                 
Electronic Frequency Controls
PH                       
Gel Filled
DO                       
Bimetallic
Anti Foam                
Automatic
Feed control             
Automatic & level sensor
Air                      
Rota meter