Stability Test Chamber Manufacturer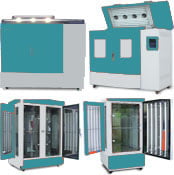 Whenever Stability Test  Chamaber are of prime importance under ICH guidelines within Q1A22 parameter stability test chamber guide through the Harmonization process to enable qualify for License. Living cells study, New Drug Development and pharmaceutical compounds, License are obtain by using Humidity chamber under the ICH-Q1AR2 Guidelines with ease.
Test chamber are provided with state of art 21 CFR part  11 Software which makes the user comfortable.
Stability Chambers have found different application shelf life testing, accelerated aging, steady state in electronic components, Sim card, industrial and biological materials.
Application:
Stability Chambers meet Photo stability studies in Pharma, Plastics, composites, Adhesives, Textiles. Cosmetic, Food & Beverages, Personal care Biomedical storage, life science, Electronics etc in compliance with ICH guideline Q1A along with state of art 21 CFR Part 11 software.
Features :
Temperature and Humidity Chamber have:
Temperature Range from  5°C to 60°C,
Relative Humidity from 5% to 90 %RH ±3RH
Touch Screen Type, Programmable Controller
Dual Turbo Fan Circulation and Fluorescent Lamp
Low Water Level Alarm System
Built-In RS-485 Communication Interface
Optional Temperature/Humidity Chart Recorder without Microprocessor/PID/Digital Control with touch-screen type controller provides precise temperature control from  5°C to 60°C, relative humidity control from 5% to 90 %RH, timer, alarm, auto-tuning and auto stat stop function
Control
Standards : ICH-Q1AR2
ISO,EN, CE, Electro magnetic
MDD :- 93/42/EEC
IEC  60068-2-38
EN 61000-6-1 : 2001
Electromagnetic Compatibility Directive (89)/336/EEC)
EN: 60101, ISO, CE
Contraction
Touch Screen Type 5.7'/ 7.0"
Double walled with PUF insulation of 80-150 mm
Inner Chamber: Stainless Steel 304
Outer Chamber: Mild Steel Powder Coated
Danfoss Tecumseh CFC free cooling system with hermetically sealed compressor with temperature sensors
Stainless steel Trays
Inner Door: Full-length inner glass door
WiFi & LAN based data Communication
Fluorescent light
Forced air circulation for uniform temperature
Safety devices: Low & high temperature cut-off settable thermostats & high humidity cut-off device
Audio/Visual alarms for deviations
DATA LOGGING- data Logging up logs for Temp.& Humidity
RS232 Data Logger
DESCRIPTION
BTI-STC-171
BTI-STC-280
BTI-STC-420
BTI-STC-560
BTI-STC-840
Temperature Range
5°C to 60°C
Temperature Accuracy
± 0.2°C
Temperature Uniformity
± 1°C
Humidity Accuracy
± 2% RH
Humidity Uniformity
± 3% RH
Temperature sensor
3 wire RTD
Humidity range
5% RH to 90% RH
Humidity Stability
±2% or Better
Humidity Sensor
Capacitive
Light
10000 LUX (optional)
Interior construction
Stainless steel 304
Exterior Construction
CRCA Powder coated
Internal Door
Glass Sheet door with complete visibility of components.
Option for electrical interface
Standard connector
Trays
SS 304 perforated.
Electrical
220 to 240 volts AC 50 Hz single phase
Timer cyclic
0 to 24 hrs day night
Alarm
Audio and visual
Dimensions
505 x 415 x 830
570 x 550 x 875
700 x 640 x 900
700 x 700 x 1100
825 x 825 x 120
Capacity
171 ltrs
280 ltrs
420 ltrs
560 ltrs
840 l