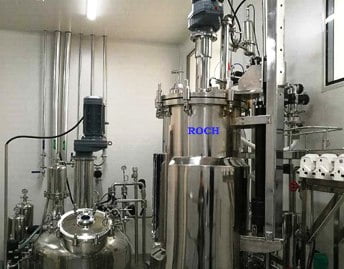 Pilot Fermenter:
Roch Pilot Fermenters Are an ideal solution to your fermentation needs, when Pilot batches are to be established for onward large-scale industrial  bioprocess products.
Roch Pilot Scale bioreactors fermenters are designed to undertake extreme cultivation test whether mammalian cells which have no cell walls are fragile and sensitive to shear forces.
The Vessels  comes equipped with the impellers then gently mix the media and minimizes the sheer force.
TECHNICAL MATRIX
Type                                       Autoclavable
As pact ratio                         1:25%
Design Guidance                 ASME SECTION VIII
Temperature                       PID/PLC/SCADA
AC drive                                Electronic Frequency Controls
PH                                          Gel Filled
DO                                          Bimetallic
Anti Foam                             Automatic
Feed control                         Automatic & level sensor
Air                                          Rota meter
Gas                                        Rota meter / Thermal Mass Flow
Pressure                               Piezoresistive    Diaphragm