Large Automatic Fermenter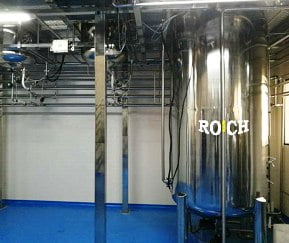 Roch Puts its decades of experience and offers industries large automatic Fermenters, Bioreactors which qualify the GMP, CE and international standards conforming to electromagnetic directives.
Roch Fermenters are use world over for producing different cell lines on demand when industries deserving to harvest the Cells by enhancing the metabolic process when target commercial products such as enzymes are to be fingerprinted using genetically modified microbes.
Roch Large automatic fermenter enhance the Bioprocess reaction into conversion of carbohydrates, sugar into alcohol, acids enzymes as the commercial products.
Roch Automatic Industrial Fermenters are a blend of advanced technology with years of efforts to develop SCADA suitable for industries.
Large 12 inch touch screen monitor displays coloured graphics logarithms and in process values along with the flow process online cycles. Advance report generation of hourly, daily process and M I S is the added advantages.
TECHNICAL MATRIX
Type                                        Autoclavable
As pact ratio                            1:25%
Design Guidance                   ASME SECTION VIII
Temperature                          PID/PLC/SCADA
AC drive                                  Electronic Frequency Controls
PH                                           Gel Filled
DO                                           Bimetallic
Anti Foam                              Automatic
Feed control                          Automatic & level sensor
Air                                           Rota meter
Gas                                          Rota meter / Thermal Mass Flow
Pressure                                Piezoresistive Diaphragm