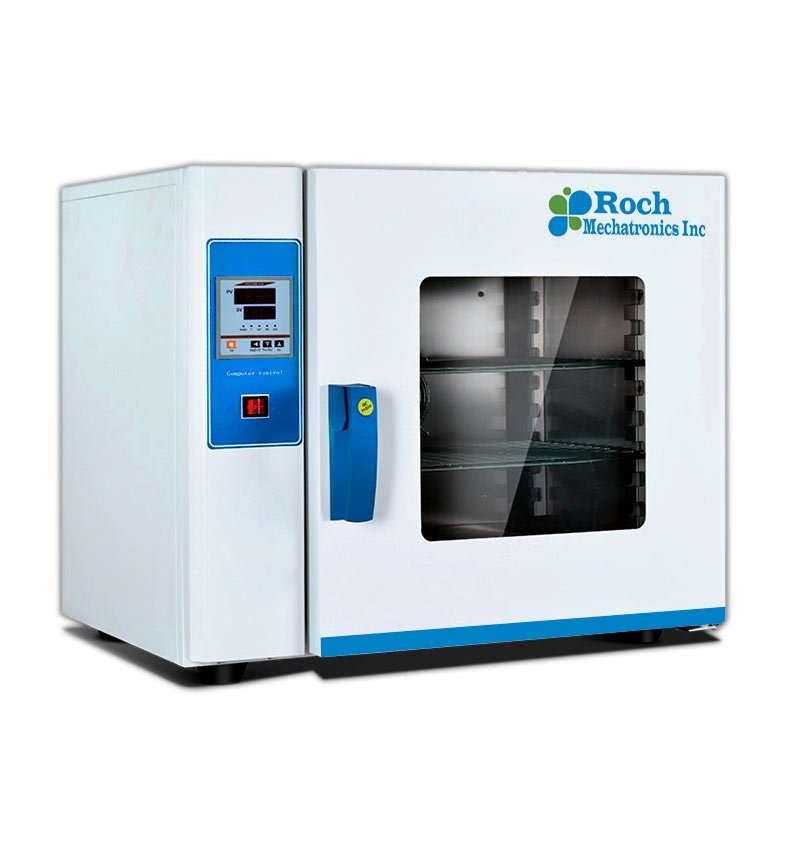 Hot Air Oven:
Roch's Hot Air Oven is Double walled construction and stainless steel AISI 304 grade steel. The inner chamber is made of heavy gauge stainless steel sheet of SS-304 grade.OUTER BODY of our Hot Air Oven constructed out of Mild Steel sheet duly rust proofing and painted with long lasting stove enamel or elegantly powder coated.
APPLICATIONS
Roch Mechatronics is Good quality and Trustworthy Brand and construction of Roch HOT AIR OVEN is based on Standard Technology for standard working Roch Mechatronics company is providing a standard and Reputed Brand.
Roch Hot Air Oven are widely used in
It is also used in chemical and pharmaceutical industries,
food and beverage industries,
Textile industries.
Electronic Industry for Delicate Parts
Food Industry
Hospitals and Medical Facilities Dental Office
Laboratories Industrial Manufacturing
Jewelry Industry for intricate parts Auto Industry for Rugged parts Engineering Industries
Research Centers
TYPES OF HOT AIR OVEN
Hot Box Ovens
High-Temperature Ovens
Heavy Duty Ovens
Standard Digital Ovens
Wax Melting Ovens
THE USES OF HOT AIR OVEN
Sterilising
Drying
Polyimide baking
Annealing
Die-bond curing
Curing
SALIENT FEATURES:
Double walled construction
Forced air circulation
Digital temperature controller cum indicator support
Easily accessible interior for maintenance and cleaning
Timer & Alarm
CFC Free
Mineral Wool /Glass Wool/Ceramic Wool Insulation
Silent fan motor to maintain uniform temperature.
Heating Element: Nichrome wire / Kanthal A1
Safety and Convenience over temperature and current protection capability ensure user safety.
Long life / Low Maintenance
Removable stainless steel shelves
Air Circulating Fan
Over heat and over current protection
Hot air oven making use of dry heat for sterilizing of articles
CONTROL
Analog Type/Microprocessor based PID controller/HMI based
Temperature Range ambient to 250 °C
LED/LCD Display
Blower speed Uniform enable disable
Castor: Lockable
Air : Class 100
Digital temperature controller
Process: Start. End
CONSTRUCTION
INTERIOR CONSTRUCTION: Double walled construction and made of Aluminium / Stainless Steel 304 Grade / Galvanized steel.
Exterior Chamber is made of MS Powder Coated / Stainless Steel 304 Grade.
OUTER DOOR: Hot Air Oven the unit is provided with Double door provided with magnetic door closer/ Without Glass Window/ Glass Window.
Automatic cut off of heater and blower when door opened.
STEEL SHELVES: Hot Air Oven is supplied with 02/03/04/05/06/ number Adjustable / Removable Perforated Shelves fabricated from 304-grade Stainless Steel sheets minimum 1-2 mm thick.
Safety Features:
For safe operation of hot air oven, several safety instruments are fitted; automatic circuit breaker turns off the unit in case of over temperature and other short circuits. Audio and visual alarms can be fitted as option, alert the user if temperature goes beyond the selection.
INSULATION
The Gap between the walls is filled in Roch Mechatronics oven is high-grade Mineral Wool /Glass Wool/Ceramic Wool Insulation, which Ensures maximum thermal efficiency DOUBLE WALLED wall with special grade Mineral Wool /Glass Wool/Ceramic Wool Insulation60mm Insulation on each side.
BLOWER
Blower: Hot Air Oven Fan Motor Blower is mounted at the Rear wall for uniform Temperature.
Make
ROCH MECHATRONICS INC
Model Number
HAO-30
HAO-50
HAO-95
HAO-125
HAO-224
HAO-336
Capacity
30 L
50 L
95 L
125 L
224 L
336 L
Temperature Range
5°C/50°C above ambient to 250°C
Accuracy
+ / – 0.5°C , + / – 2°C
Temperature Sensitivity
± 0.5°C
Temperature uniformity
±1.0 to 3.0°C
Temperature Controller
Analog Type/Microprocessor based PID controller/HMI based
Controller & Display
LCD/LED Display
Controller
Microprocessor Based PID Controller
Interior Chamber
Aluminium / Stainless Steel 304 Grade / Galvanized steel
External Chamber
MS Powder Coated / Stainless Steel 304 Grade
Door
Without Glass Window/ Glass Window
Number of Shelves
2-3 Stainless steel shelves (Removable)
Air Circulation
Forced air circulation
Sensor
PT100
Nominal power
500/600/800/1000 Watt
Heat Load
1 to 2 Kw
Power Supply
220/230 Volts, 50Hz Single Phase
Safety device
Over temperature protection Electric leakage breaker Temperature safety as per DIN 12880 Class 3.1
Inner Chamber (W x D x H)
300 x 300 x 300 mm
355 x 355 x 355 mm
455 x 455 x 455 mm
455 x 455 x 605 mm
605 x 605 x 605 mm
605 x 605 x 910 mm